Military Discounts for Active Duty, Veterans, and First Responders & Family
RainDance Water Systems is pleased to announce that we are now offering the lowest available direct pricing to all customers on our large selection of water softeners, well water filters, reverse osmosis systems, residential & commercial water treatment equipment.
To show our appreciation to our military service men & women, veterans, first responders, teachers and their family members we also offer an additional savings with our Military Rebates/Discounts.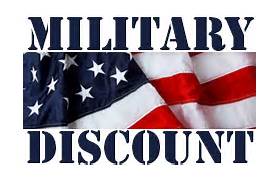 MILITARY DISCOUNTS: RainDance Water Systems is very proud of the efforts and protection provided to us by our first responders, law enforcement, fire, teachers and military personnel on a daily basis. Without the services you provide we could not do what we do and for that we are extremely grateful! We would like to pay it forward with our special discounts for all US Law Enforcement, Fire, Armed Forces personnel and their families. This includes US Army, US Air Force, US Marines, US Navy, US National Guard, US Coast Guard and all Reserve Units. All current, retired, veteran and reserve personnel are eligible, as well as parents, spouses and children of these personnel.
Why haven't I received my RainDance Water Systems Instant Rebate Coupon I requested?
Check your spam! There are several reasons why you may not have received the information you requested. The most common reason is that your mail program or Internet service provider (ISP) has mistaken the Instant Rebate Coupon as spam and filtered it into your spam or bulk email box, or deleted it automatically.
To protect you from unsolicited emails (also called spam), many ISPs and mail programs filter your email to ensure that only legitimate email appears in your inbox. We make every effort to create filter-friendly email that will not be confused with spam by most spam filters. Unfortunately, some mail that you've requested may mistakenly be filtered out of your inbox.
In order to avoid having your Instant Rebate Coupon filtered out by such programs, please add our email address to your list of trusted senders.