Commercial Reverse Osmosis Systems - Water Treatment Equipment for Business
Commercial RO Selection Guide: Complete Commercial RO Catalog | Compact 400-1,500gpd RO Systems | 2,000-12,000gpd RO Systems | Skid Mounted RO Systems | Nanofiltration Systems | Sea Water RO Systems
Compare Commercial Reverse Osmosis Water Treatment Equipment: RainDance Water Systems provides a comprehensive range of Reverse Osmosis units designed to standard or customized to meet our clients own requirements - we are proud to say that we have provided these systems for numerous businesses and operations from Craft Beer to Product Growers to Solar Panel Manufacturers to the US Army throughout the US and overseas. We can provide systems from as little as 35gpd up to 500,000gpd in various formats offering our clients real choices in system operation, water quality and flow rates. We offer Reverse Osmosis systems with Skid Options, Single Pass, Twin Pass, Chemical Dosing, Stainless Steel Wall Mount, TDS Water Blending, and Central Control of the whole water purification system from the RO as part of our design package.
Commercial reverse osmosis applications include: Agriculture, Livestock, Green Houses, Orchards, Groves, Food, Ice, and Beverage Industry, Bottled Water Stores, Pharmaceutical, Humidification, Electronic Industry, Process Water, Chemical Industry, Electroplating Industry, Electrical Power Generating, Polymer Solutions and more.
Commercial Water Reverse Osmosis
We offer custom reverse osmosis water filtration solutions. Not just "one size fits all".
Business RO Systems can be custom built to your specifications, unmatched value in quality and reliability, and include a multitude of standard features that most of our competitors list as options at a higher cost.
Why a commercial reverse osmosis system from RainDance Water Systems? Because we can customize absolutely everything tailored to the customer's water chemistry and ambient operating conditions. A unit for Australia will be significantly different from one sent to Texas or California. We have provided numerous businesses from manufacturers to food & beverage to agriculture versions of integrated RO systems. Their specifications can vary widely from one system to the next so we almost always quote individually based on their requirements. The systems described below are more standardized and based on typical tap or well water conditions.
Our most popular TV RO Series offer several unique features such as: High efficiency, high recovery, high rejection, microprocessor controller, lower operating pressure (150 psi-200 psi) - durable rust-proof frames (stainless steel) - stainless steel membrane housings - complete test report on each system. Note: RO performance will vary depending on feed water characteristics.
Quality service and support after your TSM, TV, TH reverse osmosis purchase. All water treatment systems are designed with ease of installation in mind. We offer direct technical and installation support for all you do-it-yourselfers, plumbers, and contractors. Our tech support team consists of qualified personnel who build and engineer each water treatment product before we ship it to your home or business.
Reverse Osmosis Water Systems and Commercial Filtration Equipment for livestock, growers, and agriculture - Ask about our interpretation guide for livestock and irrigation water. Treatment for Total Dissolved Solids (TDS), Sodium (Na), Sodium Adsorption Ratio (SAR), Sulfate (SO4), Nitrate (NO3-N), Electrical Conductivity (E.C.), Chloride (Cl), Bicarbonates (HCO3), Hardness, Silica, Iron (Fe), and Manganese (Mn).
Request a detailed quote by scrolling down to the bottom of the page or clicking here >>>



TV-2000-12000 Reverse Osmosis Systems




Model #
TV-RO Reverse Osmosis Systems
System Function
Commercial Water Purification System
Capacity
Available in 2,000, 4,000, 6,000, 8,000, 10,000, & 12,000 Gallons Per Day
High Recovery
50-70+% Recovery
Power
220V 60Hz
Maximum Removal Capacities

5,000ppm TDS


(Can be customized for 15,000ppm TDS)
< 0.3ppm Iron
< 0.05ppm Manganese
< 5gpg (85ppm) Hardness
Applications
Engineered for City-Treated Water, Well Water, River Water, Brackish Water Sources
Prefilters
Attached Sediment Sand Filter
RainDance Exclusives
Water Leak Alarm
*8 Year Replacement Prefilter Package
Pre-loaded Flash Drive w/ Instructions, Diagrams, Manuals
Customer & Tech Support
Via Phone: 9am-5pm PST Mon-Fri
Via Live Chat: 5am-10pm PST 7 Days
Via Email: 24/7 365 Days a Year

TV-RO Commercial Specifications & Features:
The TV series is designed for commercial businesses where floor space is at a premium. All major system elements are mounted within a sturdy Tubular Stainless Steel Frame - NOT ALUMINUM, welded for long term rigidity and open for easy access to all components. The TV system is a compact, heavy duty RO water purifier for users requiring 2,000 to 12,000 gallons per day water production or looking for the best durable and dependable high-scale purification system. TV systems are fully equipped with the instruments and controls needed for reliable long term operation, including but not limited to the following:
Stainless Steel Frame, Membrane Housing(s), Vessels, Gauges
High Efficiency Rejection & High Recovery up to 70%
Structural ABS Control Panel & Microprocessor-based Controller
Preinstalled Float Switch for Atmospheric Storage Tank
Patented PureFlush Membrane Cleaning (?)
Low Energy Thin Film Membrane Elements
TDS Water Quality Panel Monitor
TV-RO Reverse Osmosis Spec Sheet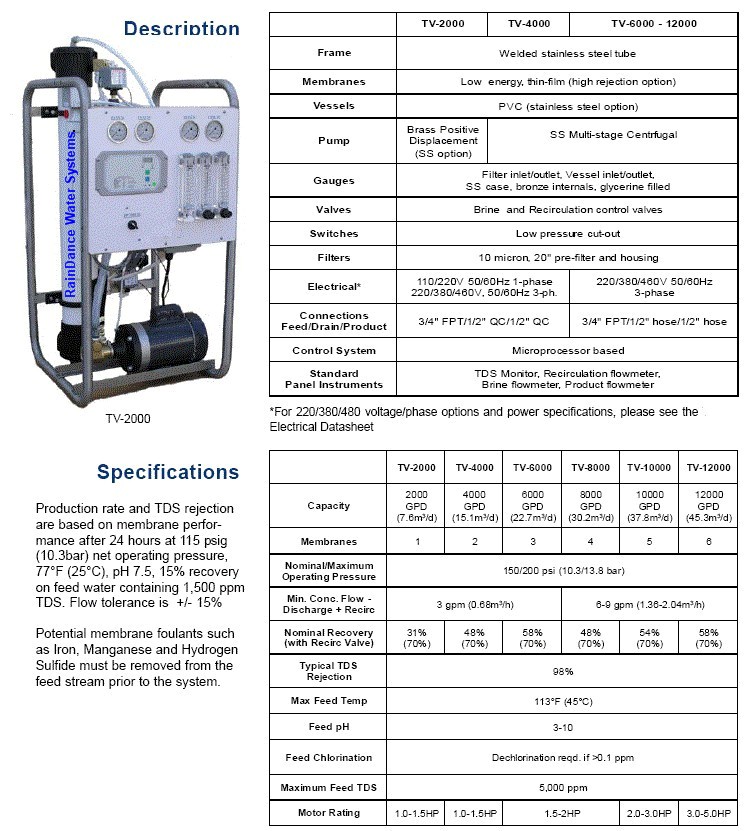 *Capacity production rate is based on input water temperature of 25 C (77 F). If your water is colder production will be lower.