The most comprehensive RainDance 400gpd whole house well water reverse osmosis package on the market - Compare!
Our ultra-friendly TSM-RO 400gpd Packages are highly desired for brackish salty well water or city treated water to reduce the levels of total dissolved solids and suspended matter. The principal uses of our whole house reverse osmosis systems are for the treatment of impurities such as chromium-6, nitrate, sulfate, sodium, chlorides, arsenic, copper, lead, fluoride, aluminum, metals, chemical contaminants, uranium, radium, gross alpha, beta particles and
total dissolved solids up to
2500ppm
.
Compare our consumer friendly
Compact Whole House RO Package
to any similar whole house purification package on the market today! You'll find that no system can stand up to our TSM-400 Whole House RO Package, and on top of our superior purification package our customer service and technical support is unmatched. Find out what makes this package unbeatable below.
Sizing your Whole House RO System:
Keep in mind that an RO system produces a certain amount of purified water within a 24 hour period, so it's important not to undersize the system. You should size your whole house RO by
cutting it's rated gallon per day capacity in half
for household production. For example, our TSM-400 Whole House RO system can produce 400 gallons within 24 hours, or approximately
200 gallons
every 12 hours, so this system should be considered when no more than 200 gallons is used in home per day.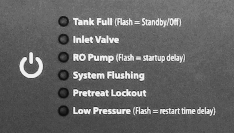 NEW!
Best-In-Class Easy Automatic RO Control Panel now included with the TSM-400 Whole House RO Package. Our integrated electronic controller offers automated control of several system functions and helps prolong the life of the RO motor and membrane, providing long-term and reliable operation. Built with superior engineering, this control panel eliminates confusing switches and lack of feedback provided by other generic RO systems.
The Automatic RO Control Panel allows the home owner to easily monitor the performance of their system by using easy-to-read light up indicators for common RO functions. Certain features such as the
System Flushing
and
Low Pressure
provide added protection by automatically cleaning the RO membrane and shutting the RO system off in events of low water pressure. Low water pressure can cause an RO system to cycle on and off which can burn out the motor and increase noise level. Other features like the
RO Pump
and
Tank Full
keep you informed when the system is running and you have a full tank of purified water. With automated control it has never been easier to operate a whole house RO system!
*Offer valid on orders made after 7/01/18
Need Help? We Offer The Best Customer Support Team In The Industry:
Need To Purchase A Whole House RO System:
Sales@RainDanceWaterSystems.com
Have A Technical Question Or Need Support:
Support@RainDanceWaterSystems.com
Already A Customer:
Accounts@RainDanceWaterSystems.com
General Questions:
RainDanceWater@Consultant.com
Online Live Chat: Chat With Our Live Support Team: 5am-10pm
Sales/Support Phone: 1-877-788-8387
Sales Phone: 1-855-RAIN-H2O (1-855-724-6426)
Support Phone: 1-858-927-4690
Smart Phone Support Texting: 1-858-927-4690