Whole House Reverse Osmosis Analytical Services: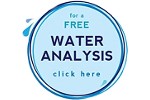 Water Analysis - The only way to ensure that a whole house reverse osmosis system will be both optimally effective and efficient is to plan & design each system on the application and on a complete breakdown of the raw water to be treated. RainDance Water Systems will thoroughly analyze your current water analysis report before making a recommendation. Once that recommendation is made, you can have complete faith that your RO system will work at its peak potential over a long period of time. You can choose to buy a reverse osmosis system "off the rack" and take your chances or you can let us tailor make a system based upon your specific needs. This is what sets Raindance Water Systems residential & commercial reverse osmosis systems apart from all the rest. Please email your water report to: Support@RainDanceWaterSystems.com Attn: WH-RO - Once our engineers have reviewed your water chemistry they will run an estimated post ro system water quality projection to let you know the best water quality you can expect after our systems. Note: If you are using a city treated water source let us know your water provider and we will contact them for a recent water quality report.
Technical Support (we are here when you need us)
RainDance Water Systems offers knowledgeable technical support before and after each purchase - 7 days a week! We have also extended our Online Live Chat hours - You can now chat with a live specialist from 5am-10pm PST
Reverse Osmosis System Operations Support
RainDance Water Systems will assist in properly implementing the use of our whole house reverse osmosis systems. Each system includes an instruction manual and system diagram and our technical staff is available 7 days a week.
Reverse Osmosis Consulting Services
From RO system design to identification and elimination of system problems, Our staff will contribute decades of system design and troubleshooting experience to you or your installer. Take advantage of our FREE Consulting Service - if you have any questions regarding the purchase of a whole house reverse osmosis system, maintenance, costs, installation and service. Contact us today at Support@RainDanceWaterSystems.com