Our best selling Total Home Well Water RO System 1500gpd Packages are highly desired for brackish salty well water or city treated water to reduce the levels of total dissolved solids and suspended matter. The principal uses of our whole house reverse osmosis systems are for the treatment of impurities such as chromium-6, nitrate, sulfate, sodium, chlorides, arsenic, copper, lead, fluoride, aluminum, metals, chemical contaminants, uranium, radium, gross alpha, beta particles and salty
high total dissolved solids up to
2500ppm
.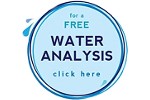 We also customize whole house reverse osmosis equipment to meet your water chemistry requirements. If you have a water analysis please email:
Support@RainDanceWaterSystems.com
Attn: RO Recommendation
Compare
our best selling ultra user-friendly 1500gpd
Compact Whole House RO Package
to any whole house purification package on the market today! You'll find that no system can stand up to our TSM-1500 Whole House RO Package, stainless steel ro, and on top of our superior purification package our customer service and technical support is unmatched. Find out what makes this package unbeatable below.
Sizing your Whole House RO System:
Keep in mind that an RO system produces a certain amount of purified water within a 24 hour period, so it's important not to undersize the system. You should size your whole house RO by
cutting it's rated gallon per day capacity in half
for household production. For example, our TSM-1500 Whole House RO system can produce 1,500 gallons within 24 hours, or approximately
750 gallons
every 12 hours, so this system should be considered when no more than 750 gallons is used in home per day.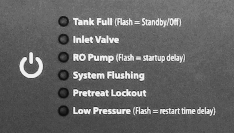 NEW!
We Invite You To Compare All Of Our Deluxe Features With Best-In-Class Easy Automatic RO Control Panel now included with the TSM-1500 Whole House RO Package. Our integrated electronic controller offers automated control of several system functions and helps prolong the life of the RO motor and membrane, providing long-term and reliable operation. Built with superior engineering, this control panel eliminates confusing switches and lack of feedback provided by other generic RO systems.
The Automatic RO Control Panel allows the home owner to easily monitor the performance of their system by using easy-to-read light up indicators for common RO functions. Certain features such as the System Flushing and Low Pressure provide added protection by automatically cleaning the RO membrane and shutting the RO system off in events of low water pressure. Low water pressure can cause an RO system to cycle on and off which can burn out the motor and increase noise level. Other features like the RO Pump and Tank Full keep you informed when the system is running and you have a full tank of purified water. With automated control it has never been easier to operate a whole house RO system!
What does the Electronic RO Control Panel do and why is it important?
A: The Electronic Control Panel provides hands-free and worry-free operation of several functions of the whole house RO system. The basic RO functions include the "feed pressure switch" and "tank float switch" which regulates the system operating. The "feed pressure switch" ensures that your incoming water pressure is high enough for the RO system to operate (typically above 25psi). The "tank float switch" tells the RO system to shut down or start up based on your storage tank's water level. These basic functions are built into the RO control panel for smarter regulation and eliminates external switches.
A bonus feature included in our Electronic RO Control Panel is automatic membrane flushing. Most whole house/light commercial RO systems on the market today do not provide a membrane flush, which helps extend the life of the membrane by removing the concentrate brine (extremely salty water expelled by the membrane) sitting on the surface. Our whole house and light commercial RO systems included a manual membrane flush that allowed the user to flush the membrane as they wanted to. With this Electronic RO Control Panel, our customers no longer need to worry about remembering to flush the membrane constantly; this control panel automatically activates a membrane flush both at start up and shut down, ensuring longevity of your RO membrane.
The most important feature on this control panel, however, is the low pressure shutdown. Both public city water users and private well water users can suffer from periods of low pressure which can have a great negative affect on any RO system. If you experience a period of low pressure, a standard RO system would cycle on and off until the pressure is regulated. This can cause wear and irreversible damage to the RO pump motor and external feed pressure switch, resulting in costly and labor-intensive repair. Our RO control panel prevents this from happening by automatically shutting down the RO system if your feed pressure remains low for an extended period of time.
An optional feature on our RO control panel is pretreatment lockout. When pretreatment is needed to protect the RO system, a backwashing filter or water softener is used. When these pretreatment systems shut down to clean themselves, they allow unfiltered water to pass by the system and get into the RO if it's running at this time. To prevent possible exposure to unfiltered water a pretreatment lockout switch can be used to shut down the RO system when the water softener or filter is regenerating. Once the pretreatment system is finished regenerating, the switch will reactivate the RO system again. Both the RO system and the pretreatment system will need to be specially fitted with pretreatment lockout. This option is included free of charge when you add any of our pretreatment water softeners, iron filters, or backwashing systems to your whole house RO system!
Each function of the control panel is displayed with varying indicator lights to let you know how the system is running. You won't have to wait until it's too late and there is no water when you turn on a tap. Our Electronic RO Control Panel prevents potential RO malfunctions from happening and allows you to catch the culprit in time, before it has a chance to harm your system. This fully automated control is a must-have for any home owner that wants a hassle-free solution to many water problems.
Read Our Whole House RO Frequently Asked Questions & Concerns HERE >>>
You can also ask for our current Whole House RO HERO discount savings codes via our Online Chat which is available from 5am to 10pm PST.​
We offer standard RainDance discount savings codes for both Home & Business owners. However, if you, a family member or you own a business that employs active military, veterans, first responders, nurses or teachers we can provide additional savings with our HERO Discounts
Military, First Responder, Nurse, & Teacher HERO Discounts: RainDance Water Systems is very proud of the efforts and protection provided to us by our first responders, law enforcement, fire, nurses, teachers and military personnel on a daily basis. Without the services you provide we could not do what we do and for that we are extremely grateful! We would like to pay it forward with exclusive rebates for all US Law Enforcement, Fire, Armed Forces personnel and their families. This includes US Army, US Air Force, US Marines, US Navy, US National Guard, US Coast Guard, and all Reserve Units as well as Nurses and Teachers. All current, retired, veteran and reserve personnel are eligible, as well as parents, spouses, and children of these personnel. Please click our LIVE CHAT BUTTON to ask for your HERO Rebate Code