Do You Have Iron Bacteria?
Does your well water leave red stains in the sinks and bathtubs? have unpleasant swampy tastes or oily smells? do you notice red, slimy growths in the toilet tank? If so, your well or water system may have iron bacteria.
Iron bacteria are small living organisms that naturally occur in soil, surface and groundwater. These nuisance bacteria combine iron or manganese with oxygen to form deposits of "rust," bacterial cells, and slimy materials that stick to well casings, pumps, pipes, plumbing fixtures, irrigation system and water appliances often damaging them.
Iron bacteria can be orange, brown, or red in color. Sometimes it floats in the water like orange algae and sometimes you may notice an orange slime that coats the inside the toilet tank that can be wiped off with a finger. You may also notice an oily sheen on the water surface. Iron bacteria often produce unpleasant tastes and odors commonly reported as: "swampy," "oily," "cucumber," "sewage," "rotten vegetation," or "musty." The taste or odor may be more noticeable if the water is stagnant for some time. Iron bacteria does not produce hydrogen sulfide, the "rotten egg" smell, but can create an environment where sulfur bacteria can grow and produce hydrogen sulfide.
The
Iron Max Plus Series
is our highest performance well water treatment system able to tackle some of well water's most difficult problems. This combination of systems can treat up to
50ppm
ferrous iron
(clear water iron),
ferric iron
(red/orange when drawn),
iron bacteria
, up to
15ppm

manganese
, up to
10ppm

hydrogen sulfide gas odors
,
sulfur reducing bacteria
,
tannins,
up to
10ppm
and
sediment down to

3-5 microns
.
Please contact us for advice on how we can help solve your iron bacteria problem before it causes substantial damage to your plumbing, water appliances and irrigation equipment. Concerned about the use of our chlorine injection system? be rest assured that our Iron Max Plus well water treatment package includes a post carbon filtration system to remove any residual chlorine from your water - still don't want to use chlorine? we got you covered - ask about our hydrogen peroxide injection option.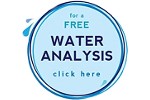 If you already have a detailed water analysis we happily provide free consultation to recommend the best water treatment solution(s) for your water problem(s). Send us your water analysis via email to: Support@RainDanceWaterSystems.com

Attn: Well Water Consultation or send it via

Live Chat

and one of our experienced

Live Chat Representatives

will walk you through the process of finding the best filter for you. Haven't had your water tested yet? No problem! We offer

FREE well water testing.




Find our complete selection of Iron Max Plus systems below for
Whole House
and
Commercial
applications.

Iron Max Plus-9
Flow Rate: 8gpm
Pipe Size: 3/4" or 1"
1-5 Person Household / 1-2 Bathrooms
Best For Approx. 1-500 GPD
Click To View Special Price



Iron Max Plus-10
Flow Rate: 10gpm
Pipe Size: 3/4" or 1"
1-8 Person Household / 1-3 Bathrooms
​Best For Approx. 1-1000 GPD
Click To View Special Price



Iron Max Plus-125-12
Flow Rate: 18gpm High Flow
Pipe Size: 1" or 1.25"
1-10 Person Household /
1-4 Bathrooms / Light Commercial
Best For Approx. 1-1500 GPD
Click To View Special Price