Whole house nitrate Filters can accommodate well water pump flow rates from 10gpm up to 100gpm and can be installed on 3/4" up to 2" plumbing lines. Our Nitrate Eaters are perfect for aquariums, fish tanks, livestock & farms.
Nitrates and nitrites are nitrogen-oxygen chemical units which combine with various organic and inorganic compounds. The U.S. Environmental Protection Agency uses 10 mg/L as N as a mandatory national standard for public supplies under the Safe Drinking Water Act. The 10 mg/L (same as ppm) standard expressed as nitrogen (N) is equivalent to 45 mg/L expressed as nitrate are considered unsafe. Nitrates have no detectable color, taste or odor at the concentrations involved in drinking water supplies, and they do not cause discoloration of plumbing fixtures, so they remain undetectable to our senses. Carbon filters cannot remove nitrates - boiling your water does not remove nitrates
High nitrate levels in well water can cause methemoglobinemia or blue baby syndrome, a condition found especially in infants under six months. The stomach acid of an infant is not as strong as in older children and adults. This causes an increase in bacteria that can readily convert nitrate to nitrite (NO2).
Nitrite is absorbed in the blood, and hemoglobin (the oxygen-carrying component of blood) is converted to methemoglobin. Methemoglobin does not carry oxygen efficiently. This results in a reduced oxygen supply to vital tissues such as the brain. Methemoglobin in infant blood cannot change back to hemoglobin, which normally occurs in adults. Severe methemoglobinemia can result in brain damage and death.
Pregnant women, adults with reduced stomach acidity, and people deficient in the enzyme that changes methemoglobin back to normal hemoglobin are all susceptible to nitrite-induced methemoglobinemia. The most obvious symptom of methemoglobinemia is a bluish color of the skin, particularly around the eyes and mouth. Other symptoms include headache, dizziness, weakness or difficulty in breathing.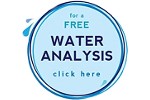 If you already have a detailed water analysis we happily provide free consultation to recommend the best water treatment solution(s) for your water problem(s). Send us your water analysis via email to:
Support@RainDanceWaterSystems.com
Attn: Well Water Nitrates or send it via
Live Chat
and one of our experienced
Live Chat Representatives
will walk you through the process of finding the best filter for you. Haven't had your water tested yet? No problem! We offer
FREE well water testing
.

Our Best Selling Nitrate Filters in Nebraska, Arizona, Oregon, Nevada, Maryland, Delaware -
Find our complete selection of Nitrate Eater systems below for
Whole House, Aquariums, Fish Tanks, Livestock, Farms
and
Commercial
applications.
WHY IS RAINDANCE OFFERING A FREE WATER METER (?)


Q: Why Buy From Us? Compare:

A: 20+ years in the water treatment industry - We design affordable, reliable water treatment packages built to last - We offer FREE transferable warranties on all Nitrate Eaters - Free delivery within the continental USA - Installation kit included with most systems - Free water testing for as long as you own your water filter - 365 day expert technical support / customer service - After hours, weekend and holiday support included - Safe & secure online shopping experience or order over the phone - Tons of happy and satisfied customers worldwide - Check out our reviews to see why our customers love our products - We do not buy or solicit reviews or testimonials.
You Can Now Add a Free Vacuum Breaker To Any Online Nitrate Eater Order - It Works By Preventing Internal Vacuum Conditions - Guards Against Siphonage And Collapsing Of Filter/Softener Tanks And Negative Pressure. Now Have Whole House Nitrate Filtration & Peace Of Mind


Nitrate Eater-125-12
Filters

150ppm

Nitrate/Nitrite
Softens

40gpg

(

684ppm

) Hard Water
Flow Rate: 10gpm
Pipe Size: 3/4" or 1"
1-8 Person Household / 1-3 Bathrooms / Small Farms / Light Commercial
Aquariums, Fish Tanks, Livestock & Farms
Click To View Special Price



Nitrate Only Nitrate Eater-125-12N
Filters

200ppm

Nitrate/Nitrite
*Installed after your softener.
Flow Rate: 10gpm
Pipe Size: 3/4" or 1"
1-8 Person Household / 1-3 Bathrooms / Small Farms / Light Commercial
Click To View Special Price

*Exclusive RainDance H2O Store Product!