Residential UV Disinfection Bacteria Treatment - Water Purification Systems
Whole House Bacteria Filters - Chemical FREE UV Water Disinfection Systems

UV Selection Guide:
Residential 9-30gpm Systems | Integrated Systems | NSF Certified Systems | USEPA Certified Systems | High Flow Commercial Systems


Homes, Private Wells, Lakes, Ponds, Cisterns, Campgrounds, Hotels, Hospitals, Restaurants, Breweries, Dairies, Laboratories, Pharmaceutical
Water quality can deteriorate without notice, Due to episodic, climatic, seasonal, or other changes. Examples: drought or precipitation, development, earth movement, agricultural practices, changes in surrounding aquifer demand and water level, etc. Unfortunately, most people don't take precautions until they've experienced a bad water test. And then, the typical response is to simply pour chlorine bleach into their well. Using chemicals for disinfection is a short term solution. More importantly, chemicals can affect the taste & odor of your water.

Environmentally-friendly and chemical-free, UV is a natural process that adds no chemicals and does not affect the taste or odor of your water.

Automatic lamp replacement reminder - The helpful digital display provides system information, including how many months the UV lamp has been in use. Once each year, an automatic visual and audible reminder will notify you that it's time to replace the lamp.

Safe and easy to maintain - Replacing the UV bulb is simple and can be completed in minutes - without tools.


Note:

Only install these UV systems when:

Total iron is less than 0.3ppm, hydrogen sulfide is less than 0.05ppm, suspended solids is less than 10ppm, Manganese is less than 0.05ppm, Water hardness below 7 gpg.
How Ultraviolet Disinfection System Works
As water flows past the UV lamp(s) in a UV disinfection system, microorganisms are exposed to Ultraviolet light energy. Ultraviolet light alters the DNA material in cells so that bacteria, viruses, molds, algae and other microorganisms can no longer reproduce. The microorganisms are considered dead, and the risk of disease from them is eliminated. These Ultraviolet Disinfection Systems are designed for commercial & industrial applications. The process of UV Disinfection is accomplished without adding any harmful chemicals to your drinking water and does not distort the water or effect its pH value. UV Disinfection has an effective kill rate of 99.99% of most living microorganisms such as bacteria & viruses.
Effective in killing off bacteria and viruses such as:

Coliform Bacteria
Leptospira Interrogans (Infectious Jaundice)
Salmonella Typhosa (Typhoid Fever)
Bacteriophage (E. coli)
Hepatitis Virus
Chlorella Vulgaris
Influenza Virus
Legionella Pneumophila (Legionnaires' Disease)

UV Disinfection is suitable for Industrial & Commercial

Agriculture, Dairy, Livestock, Irrigation Water
Food & Beverage Industry
Beer Breweries, Wineries
Drinking Water
Ice Companies
Well Water
Aquaculture
Restaurants, Schools, Hospitals, Hotels
RainDance Water Systems UV Pricing & Information - UV Ultraviolet systems provides treatment for flow rates of 10gpm to 40gpm delivering a 30 mJ/cm2 dose. Home owners can now take drinking water into their own hands & avoid the worry of Boil Water Advisories (BWA) that are constantly in the news. This system offers a compact water treatment solution with a small footprint for simple installation. The system has an electronic controller which comes equipped with a simple LED screen for visual management of the system's performance and ultimately simple troubleshooting. The controller offers constant current, universal input and full electrical certification.
Nature's way to protect your water without the addition of harmful chemicals! VIQUA's ultraviolet disinfection systems offer 99.99% destruction of bacteria, viruses, and protozoan cysts (Giardia Lamblia, Cryptosporidium).



Q: Why Buy A UV From Us? Compare:

A: 20+ years in the water treatment industry - We design affordable, reliable UV water treatment packages built to last - Free delivery within the continental USA - Upgraded WI-FI water leak & drip alarm and 5 micron sediment prefilter included with most systems - 365 day expert technical support / customer service - After hours, weekend and holiday support included - Safe & secure online shopping experience or order over the phone - Tons of happy and satisfied customers worldwide - Check out our reviews to see why our customers love our products - We do not buy or solicit reviews or testimonials.

Residential & Light Commercial UV Systems



VH200 UV System


Flow Rate: 9gpm
Economical Bacteria Filter
Whole House / Light Commercial
Ideal For Bacteria & Viruses
Click To View Special Price





VH410M UV System
High Flow Rate: 18gpm
Includes UV Intensity Monitor
Whole House / Light Commercial
​Ideal For Bacteria & Viruses
Click To View Special Price




VP600M UV System
Flow Rate: 24gpm - High Flow Rate
Includes UV Intensity Monitor
​Large Home / Farm / Light Commercial
Ideal For Waterborne Bacteria & Viruses
Click Here To View Special Price


Integrated UV Systems w/ Attached Sediment & Carbon Pretreatment
Ideal For Bacteria, Viruses, Sediment, Turbidity, Chlorine, Organic Chemcials, THMs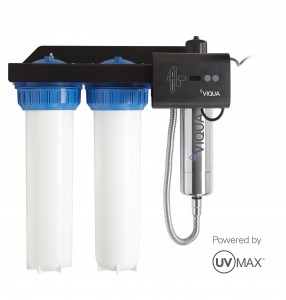 IHS22-D4 Integrated UV System
Flow Rate:
12gpm
Integrated UV Bacteria Filter
Whole House / Light Commercial
Ideal For Bacteria & Viruses
+ Sediment/Turbidity/Chemicals

Click To View Special Price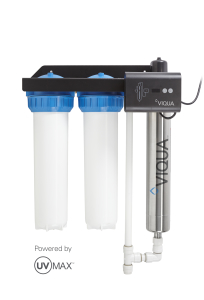 IHS22-E4 Integrated UV System
High Flow Rate:
22gpm
Integrated UV Bacteria Filter
Whole House / Light Commercial
​Ideal For Bacteria & Viruses
+ Sediment/Turbidity/Chemicals

Click To View Special Price


NSF 55 Class A Certified Residential & Light Commercial UV Systems

PRO10 UV System
Flow Rate: 10gpm
Certified NSF 55 Class A
UV System
Whole House / Light Commercial
Ideal For Bacteria & Viruses
Click To View Special Price





PRO20 UV System
High Flow Rate: 20gpm
Certified NSF 55 Class A
UV System
Whole House / Light Commercial
​Ideal For Bacteria & Viruses
Click To View Special Price




PRO30 UV System
Flow Rate: 30gpm - High Flow
Certified NSF 55 Class A
UV System
Whole House / Light Commercial
Ideal For Bacteria & Viruses


Click To View Special Price




US Environmental Protection Agency (USEPA) Validated Commercial UV Systems

From schools, healthcare facilities and campgrounds to office buildings, restaurants and hotels,
these systems are validated by the USEPA to treat flow rates from 24gpm to 50 GPM
PRO50 & PRO24-186 systems are tested and certified to USEPA UVDGM 2006 standards




PRO50 UV System




High Flow Rate:

50gpm
USEPA Validated UV System
Commercial Business, Agriculture
Farms, Livestock, Growers
Ideal For Bacteria & Viruses


Click To View Special Price






4-Log Adenovirus UV Water Disinfection





PRO24-186 UV System




High Flow Rate:

24gpm
USEPA Validated UV System


The PRO24-186 system provides over 186 mJ/cm2 UV dose for 4-log reduction of viruses, including the Adenovirus.


Ideal For Bacteria & Viruses


Click To View Special Price






High Flow Commercial UV Systems From 45gpm to 170gpm

650652H+ UV System
Flow Rate: 45gpm - High Flow
Includes UV Intensity Monitor
Light Commercial / Commercial
Ideal For Bacteria & Viruses
Click To View Special Price





660002-RK+ UV System
High Flow Rate: 80gpm
Includes UV Intensity Monitor
Light Commercial / Commercial
​Ideal For Bacteria & Viruses
Click To View Special Price




SHFM-140 UV System
Flow Rate: 170gpm - High Flow Rate
Includes UV Intensity Monitor
​Commercial / Industrial
Ideal For Waterborne Bacteria & Viruses
Click Here To View Special Price