Note: These RainDance Sea Water Filters are designed for sea water desalination with total dissolved solids up to 50,000ppm - if you have brackish salty well water with a TDS level between 2500ppm to 15,000ppm please contact us at: Support@RainDanceWaterSystems.com Or Click Here to Review our Brackish Reverse Osmosis Systems For Well Water
We Provide Easy To Use Sea Water Desalination & Brackish Well Water RO Filtration Systems Designed For Residential and Commercial Drinking Water Systems. Engineered Salt Water Filters From 750 Gallons Per Day To 4,000 Gallon Per Day Suitable For Whole-House Water Systems, Irrigation, Island Resorts, Hotels, Motels, Vacation Homes, Emergency Drinking Water Systems, Camps, Lodges, Designed for Sea Water, Salt Water, Sodium & Chloride Filtration, Brackish Well Water, Salty Borehole Water Treatment - Ideal for Back Up Sea Water Source Filtration.
There are significant differences in the equipment used for removing most of the dissolved solids from seawater and from most surface or well waters. Seawater units are referred to as desalinators and surface/well water units are called reverse osmosis (RO) units. The laws of physics require approximately 1 psi driving force for each 100 mg/l of solids dissolved in the water to be treated. Seawater has about 35,000 mg/l of dissolved solids so to obtain the first drop of permeate water a pressure of 350 psi is required.
Reverse osmosis units on the other hand normally treat water where the dissolved solids content is in the area of 6,000 mg/l or less. The required pressure for that first drop of water for 6,000 mg/l is 60 psi. To insure an adequate flow of water from the respective devices seawater units usually operate in the area of 1,000 psi and RO units in a range of 150 to 250 psi. This additional pressure requirement for seawater increases the required strength of almost all components and requires much larger pumps. Also, seawater is extremely corrosive so the materials of construction for seawater units must be non-corrosive. All of these differences cause the cost of seawater units to be much higher than the cost of an equivalent gallon output RO unit.
You Can Find Our Seawater Desalination Systems Successfully Treating Seawater
Throughout The US & Overseas
California - Florida - Texas Singapore - Oman - Belize - Bahamas - Virgin Islands - Hawaii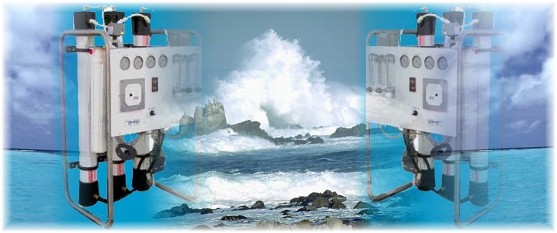 APPLICATIONS:
Seawater Desalination - Salt Water Intrusion Treatment - Sea Water To Drinking Water
Whole House Desalination Systems - Light Commercial Seawater Filters - Emergency Back-Up Water Treatment Equipment
Our sea water reverse osmosis systems are designed for commercial and residential applications where floor space is at a premium. All major system elements are mounted within a sturdy tubular stainless steel frame, welded for long term rigidity and open for easy access to all components. The user-friendly TV-SWRO desalination system is fully equipped with the instruments and controls needed for reliable long term operation.
Stainless Steel Frame, Vessels, Gauges, Hardware

Structural ABS Control Panel

Salinity Monitoring: Automatic electronic monitoring. Temperature compensated with the digital continuous readout. The salinity monitoring components of the system provide TDS readout in ppm (parts per million) of product water.
Salinity Range: Designed for seawater use up to 50,000PPM TDS (NaCl) (typical seawater salinity is 35,000 ppm)

Automatic Membrane Flush: Premium Feature - Membranes flushed with clean product water for 5 min. after every shutdown
MICROPROCESSOR CONTROLLER – Monitors several functional conditions and regulates operation of the high pressure pump and control valves. The controller is connected to sensors which, depending on their state, allow the cyclic production of purified water or prevent operation due to abnormal conditions. The standard configuration of the controller monitors feed water supply pressure for minimum level, product water storage tank level for system start/stop conditions and product water conductivity for maximum set point value and for digital front panel display. Additional optional parameters that the controller is capable of monitoring include main pump high pressure set point, low feed water tank level and membrane flush cycle occurrence and duration. Front panel buttons and digital display allow operator adjustment of set points and flush parameters.
POWER ON/OFF SWITCH – The RO system is completely un-powered when this switch is in the OFF position.
LOW PRESSURE SWITCH – A pressure switch that shuts off the unit in the event of low pump pressure (filter outlet). This is used as a pump protection device. It is factory set to cut off if the pressure drops to 12 psi (0.8 bar). A minimum of 22 psi (1.5 bar) is required to originally start the RO. The unit does not automatically restart if the loss of water pressure was temporary due to some other water usage.
PRESSURE RELIEF VALVE – A safety relief valve designed to protect the vessel(s) and system plumbing from an over-pressure condition. The 316SS valve is installed on the outlet of the fixed displacement pump and is factory set at about 975 psi (68 bar).
FRAME – The frame is formed and welded of stainless steel - NOT ALUMINUM. The pump mounting supports are also stainless steel. The frame provides a mounting for all the RO system components. Stainless steel is different from other steel alloys because it doesn't corrode or rust. Therefore, stainless steel is used for many purposes like in buildings, monuments, automobile, machinery, and our seawater desalination systems, etc. Aluminum can dent, ding or scratch more easily as compared to steel. Stainless Steel is strong and less likely to warp, deform or bend underweight, force or heat.
LEVELING FEET ​– These allow for a stable mounting on an uneven surface. After adjustment of the feet, snug the looking nuts against the under side of the frame.​
Our seawater desalination systems are designed for whole house water filtration, docks, platforms, seaside cottages, island resorts, light commercial, emergency back-up seawater purification, and vacation homes.
Whole House & Light Commercial Seawater Desalination & Filtration Systems
We Can Also Quote Compatible Storage Tanks, UV Systems, Pretreatment, Repressure Pump









TV-SWRO-750 Seawater RO
Capacity: Up to 750 GPD
Max TDS: 50,000ppm
Function: Turns seawater into drinking water

Stainless Steel Frame, Membrane Housing(s), Valves
Integrated Sediment Prefilter
Patented PureFlush Membrane Cleaning



TV-SWRO-1500 Seawater RO
Capacity: Up to 1,500 GPD


Max TDS:

50,000ppm
Function: Turns seawater into drinking water

Stainless Steel Frame, Membrane Housing(s), Valves
Integrated Sediment Prefilter
Patented PureFlush Membrane Cleaning




TV-SWRO-2500 Seawater RO
Capacity: Up to 2,500 GPD
Max TDS: 50,000ppm
Function: Turns seawater into drinking water

Stainless Steel Frame, Membrane Housing(s), Valves
High Efficiency Rejection & High Recovery up to 75%
Patented PureFlush Membrane Cleaning




TV-SWRO-4000 Seawater RO


Capacity: Up to 4,000 GPD


Max TDS:

50,000ppm
Function: Turns seawater into drinking water

Stainless Steel Frame, Membrane Housing(s), Valves
High Efficiency Rejection & High Recovery up to 75%
Patented PureFlush Membrane Cleaning
RainDance Water Systems Seawater Filter Quote Request



RainDance Water Systems can assist you in all of your sea water treatment needs. There's no need to go anywhere else. With over 100 years of combined experience in the water treatment business our support team can quickly & accurately answer all of your water filtration questions. Our resources include engineers and water treatment professionals which utilize virtually all known water treatment processes assuring our customers of the most economical, dependable, and environmentally friendly solutions. Our water treatment systems range from domestic residential households, large commercial / industrial operations to membrane cleaners and water treatment chemicals.
Our customers include numerous residential households on well and city water sources, commercial applications, business facilities and farms throughout the United States, Venezuela, Spain, Africa, Canada, Japan, U.K., Bahamas, Cayman Islands, Indonesia, Taiwan, Singapore, Kabul, Afghanistan, and Malaysia.
A small sample of our customer base includes: The U.S. Army, The U.S. Environmental Protection Agency (EPA), The U.S. Fish and Wildlife Federation, The United States Coast Guard, Washington St. National Park Service, San Diego State University, Arizona State University, Palomar College, Golden Eagle Thoroughbred Horse Farm, Buckridge Plantation and Stables, Advanced Marine PTE., Quinlan Texas Elementary School, Fairbanks Farms, Hunter Industries, Sonance Corp., Owens Brigam Medical, 1st Choice GMAC Realty, Century 21 Realty, Coldwell Banker Realty, Austin Productions, Fairfield Country Club, and Auer Precision Inc., just to name a few.
Shipping and Exporting is our specialty. To ensure a safe and proper delivery for your sea water treatment equipment we offer export crating and packaging for all overseas orders. We can use your freight forwarder, ship freight collect or we can find the best shipping rates from our facility. For our domestic U.S. orders we offer crating or pallet packaging for a safe easy delivery.